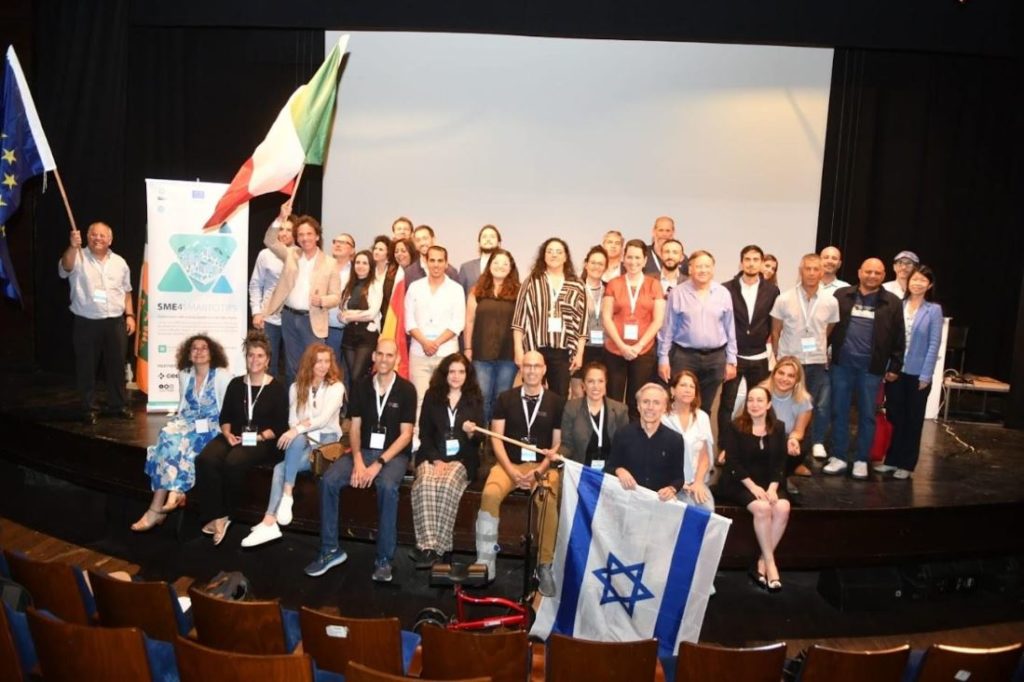 SME4SMARTCITIES organised its second commercial mission to pre-selected SMEs in Israel
On the 9th and 10th of May 2022, under the scope of the SME4SMARTCITIES project, the Kfar Saba Municipality, in collaboration with Tel Aviv University, hosted delegations from Italy and Spain. The delegations were composed of representatives of partners and entrepreneurs from Italy, Spain and Israel. The delegations presented to local authorities from Israel innovative solutions to urban challenges (i.e. heat island). The agenda of the Israel Commercial Mission can be found here.
During the visit, the members of the delegation were hosted by the "Kifud "Center, where they listened to the city's extensive activities in the field of sustainability and innovation, accompanied by explanations about the municipal assessment program for the climate crisis and the unique story of the Sustainable Art Center. The SMEs and the public authorities were able to exchange experiences and solutions on how to best tackle the urban challenges. There were several talks of distinguished guests amongst which we remind the Deputy Mayor of Kfar Saba, Oren Cohen, representative of twin cities Ms. Plia Katner, and the Advisor to the Spanish Ambassador, Mr. Antonio Milan. Furthermore, Mr. Assaf Sadeh, CEO Zifcom, presented a successful model of cooperation between SMEs and the authorities, and Dr. Yaron Singer, presented a nature-based solution for the treatment of municipal carpenters.
"Kfar Saba is involved in the issue of sustainability and innovation, and leads it in all areas of life in the city. The overarching goal of this blessed cooperation is to bring about energy efficiency, reduce greenhouse gas emissions while finding solutions to the urban heat island on this occasion. I thank all the partners who supported and helped the success of the event and especially Ms. Lihi Koren, the project manager on behalf of the municipality from the Department of Sustainability and Innovation and Ms. Odelia Weisblatt Ratzbi, in charge of external relations. We will continue to work to protect the planet by promoting innovative solutions, for the future of our children." Rafi Saar, Mayor Kfar Saba.
The next Commercial Mission will be in Malaga, Spain between 18-20th of May 2022.