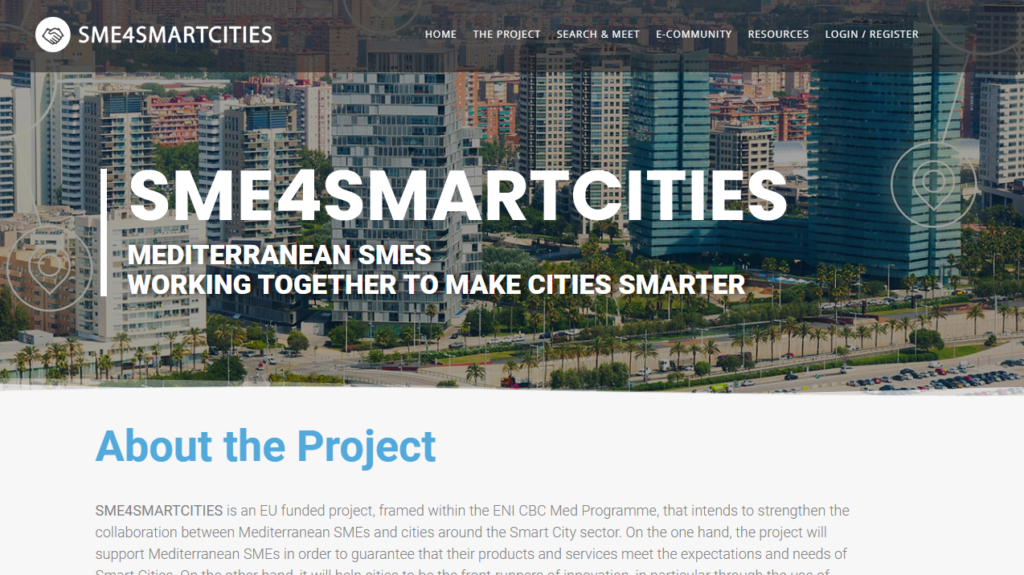 SME4SMARTCITIES offers smart city online training and e-coaching services
The Smart City Online Training Course, which has been developed within the framework of the SME4SMARTCITIES project, and the service of E-Coaching provided by the partnership are now open to those SMEs, municipalities, research and business support entities and individual experts registered on the SME4SMARTCITIES dedicated platform.
The course aims mainly at preparing the technological and innovative Mediterranean SMEs to address smart cities solutions market, identify the opportunities generated and go international.
It is composed of six modules that refer to different topics related to the smart cities' world such as their goals, ecosystem or enabling technologies. Specifically, the modules address the following areas:
MODULE 01 – Resilience & Sustainability / The Goals of Smart Cities: To understand Smart Cities' goals such as circular economy and Sustainable Development Goals (SDGs), from a sustainability overarching framework.
MODULE 02 – The Smart Cities' Ecosystem: To understand the concept "ecosystem" and the context in which innovative solutions are created and implemented in cities, especially when developing new products: major processes, top domains, and sustainable environments.
MODULE 03 – Enabling Technologies: To enable SMEs and municipalities to make sense of the complex realm of technologies for cities and allow them both to serve residents effectively
MODULE 04 – Working with Cities: To understand cities, needs and processes to take advantage of the resources they make available and offer them useful solutions.
MODULE 05 – Smart Market, Internationalization & Growth: To identify the different elements of the market to select the most suitable ones for each case of internationalization and growth.
MODULE 06 – Smart entrepreneur success stories: To learn from others' experience.
Apart from the written content and supporting resources provided for each of the more than 50 topics covered during the modules, the SME4SMARTCITIES Online Training Course offers interesting interviews with experts and other audiovisual material completing the program. The total estimated duration of the course is 44 hours.
Regarding the E-Coaching service, it is formed by 8 different coaches willing to advice and help you in the different areas they work on, such as: urban environment, climate policy, data mining, business planning, management consulting, technology transfer, Smart Mobility, Open innovation, Artificial Intelligence, among others.