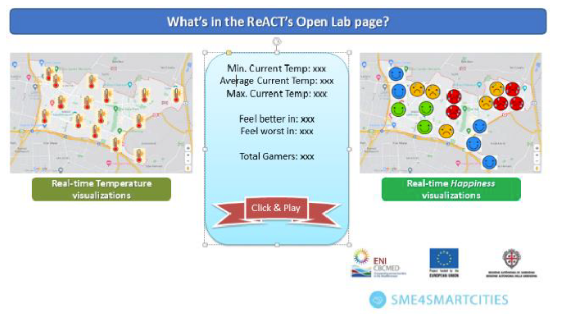 And the winners of the Israel SME4SMARTCITIES challenge are…
Keren Energy (from Israel) + ReLOG3P SRL (from Italy) – development and implementation of an Open Lab Game approach to strengthen the awareness of municipal employees and the general public for the conditions that contribute to the urban heat island, its characteristics, the inherent risks and the methods that can diminish the accumulating heat. It includes a kit of measurement apparatus for experimenting in the urban environment and a visualization of the data on a dynamic map of the city. Workshops and meetings with municipal employees and the public, while engaging in the open lab game, can help in developing awareness and assist in decision-making and initiatives of municipalities to reduce exposure to radiation and to reduce the accumulated heat and humidity in public spaces or affect the decision-making of residents in relation to the conduct in the public space. The pilot will be implemented in cooperation with several municipalities together.
BIPV (from Israel) + SIT Technologies (from Italy) – Urban Oasis: a solar powered pergola that is driving a water turbine, to create a pleasant, cool sitting area in the urban space. It can be placed in the street, in sun-perched city squares or even on building rooftops. The pergola provides shading, lighting and electricity to drive an innovative pump that will keep a water fountain running, by incorporating photovoltaic panels.
Congratulations also to Magna BSP from Israel that co-won an Italian challenge, Adapting and improving city environments threatened by climate change in Genova, in a joint bid with CIG from Italy and Actisa from Spain.