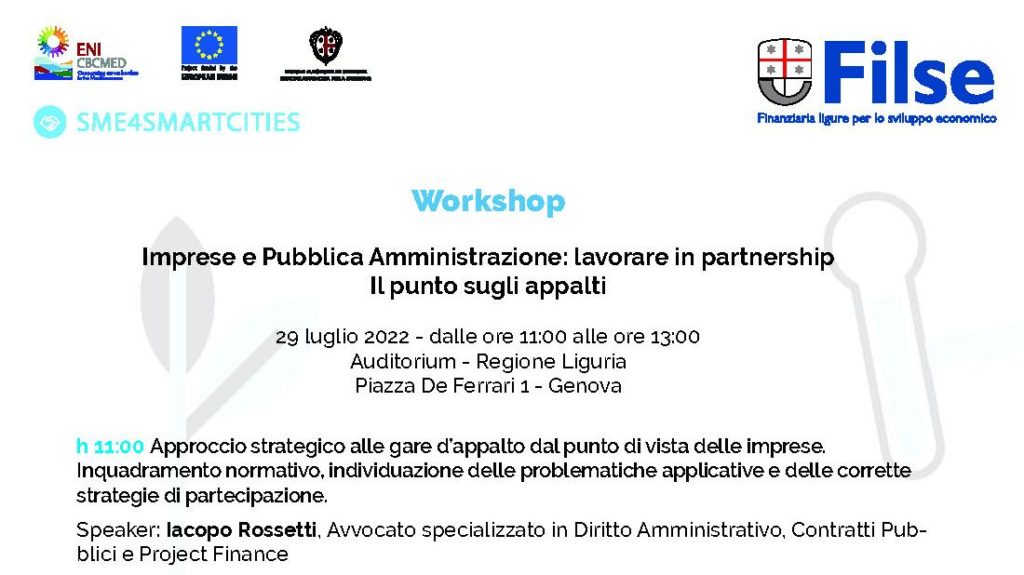 SME4SMARTCITIES announces the projects selected to solve the Genoa challenge
July 29th was a busy and engaging morning for the Italian entrepreneurs involved in the project SME4SMARTCITIES as they were invited by the Italian partner FILSE to the city centre of Genoa to participate in two different project-related events.
Starting at 11 am, the entrepreneurs participated in the workhop SMEs and Public Administration: working in partnership. During the workshop were given two tailored lectures by Iacopo Rossetti, lawyer specialized in administrative law, public procurement and project finance and Lorenzo Cuocolo, full professor of Public Comparative Law, Cassation Lawyer and President of FILSE. The second presentation focused on public tenders, a particularly relevant subject to the SMEs applying to EU projects calls and working with the Public Administrations.
After the lecture, at 1 pm Lorenzo Cuocolo along with Maria Nives Riggio, vice director of FILSE organized a press conference to present the two projects (BEAIR and InHeritage) selected for the Genoa challenge to the participant SMEs along with the invited journalists. The announcement was made by the two assessors Andrea Benveduti and Matteo Campora, representing Liguria Region and the Municipality of Genoa.
The selected SMEs for the subchallenge one (Italian California Innovation Group, Spanish Actisa, and Israeli Magna) intend to create an innovative ecosystem of services and technologies thanks to their project BEAIR, aiming also to encourage a change in habits and improve air quality, well-being and the preservation of historic buildings. InHeritage focuses on the creation of a web-based monitoring platform for the preservation of historic buildings at the UNESCO site, with the predictive tool for the impact of climate and pollution that will be deployed by the Genoa-based SMEs Artys and Pm_Ten, along with Spanish Hopu.
More photos and details on both events will follow soon! Twitter | Facebook | LinkedIn| YouTube