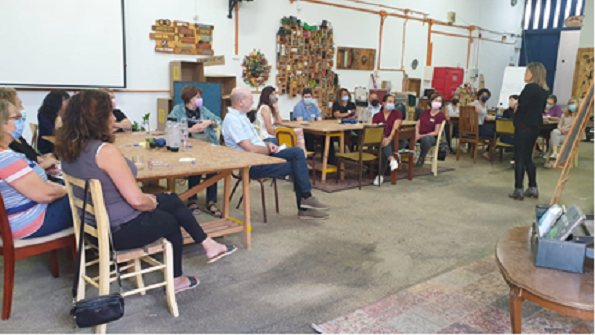 SME4SMARTCITIES: Kfar Saba Municipality in Israel trained its staff to better tackle the challenges of its municipality´s users
The Kfar Saba Municipality maintains extensive collaborations with cities in Israel and around the world while maintaining a sustainable vision and preserving the environment in which they live. As cities continue to grow, so do the challenges they face, whether these are environmental, economic, or social issues that require innovative urban solutions.
In order to catch up with the changes that are taking place, the Kfar Saba Municipality has identified the need to address these issues through innovation workshops for its employees. Between October and November 2021, 14 workshops were organised for all the municipal departments where 160 employees participated. More workshops are planned for December 2021.
At these innovation workshops, the Kfar Saba Municipality employees learned and practiced:
How to conduct a practical workshop.
How to deal with challenges related to work.
Person analysis.
Create solutions to challenges.
The workshop has several steps:
Empathy map – Generate empathy for the main customer of the municipality (the resident). What does he/she really need from the municipality
Disrupts Innovation – An activity that aims to take participants out of their daily lives and disrupt their thinking to come up with ideas that are unlikely to come up in conference rooms or regular conversations. An excellent activity that will help participants think outside the box when needed or when they feel "stuck". In this activity participants must come up with the most absurd solutions and be as creative as possible.
Individual creative thinking – Using activities such as SCAMPER or Crazy 8, creativity was activated among participants on everyday topics and ordinary challenges. A number of ideas, some of which will be used by the Municipality and others that will be considered for the future aroused. These activities helped participants to be innovative, diverse, and competitive (compared to other municipalities for example).
Creative thinking with the wisdom of the masses – An activity called Round Robin that aims to create innovative collaborations was used. An excellent activity that connects teams/people when they want to solve a challenge innovatively.
Each activity was done differently, but they all involved the participants in a fast and active writing and presentation so that in just a short time we had dozens of innovative and creative ideas.
This activity was part of the SME4SMARTCITIES project, a project that received financial support from the European Union under the ENI CBC Med Programme, and has as one aim to bridge the gaps between municipalities and small and medium-sized companies.