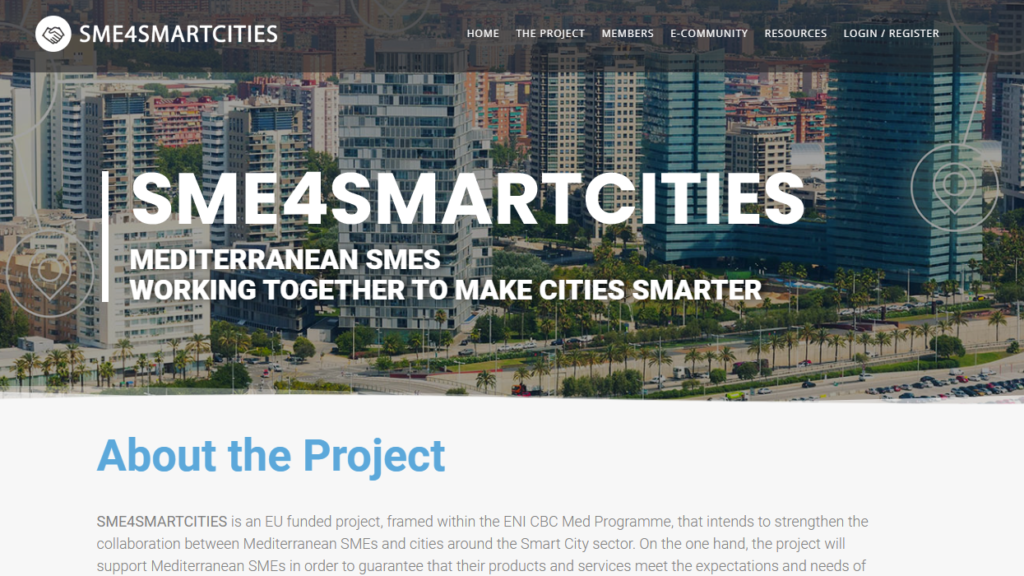 SME4SMARTCITIES gets ready with its e-platform to connect SMEs and launch its call for sub-grants
SME4SMARTCITIES consortium is pleased to announce the launch of the www.sme4smartcities.eu platform, which will be used as a single-entry point during the sub-grant call that will be published in the following weeks.
www.sme4smartcities.eu portal is the gateway to the project. It will store key information and results generated during the project lifetime and beyond. The website will have complete and up-to-date information. The website follows the tried and tested principles of good web design, namely:
Simplicity: We tried to avoid creating an overly complicated website with too many distracting gadgets/elements lest they direct visitors away from the main messages we want to convey about SME4SMARTCITIES. The end result is a clean and airy website which fully incorporates SME4SMARTCITIES' colour scheme: blue and grey.
Ease of navigation: In creating our website, we followed a simple three-click-rule whereby visitors should be able to find the information they need within three clicks. The homepage succinctly explains the project. The menu panel at the top provides links to specific sections if visitors want to know more about the project, how to apply for the sub-grant call, benefits, who can apply and also sections that are dedicated only to registered members. Amongst these sections we remind: the members section, the forum and the resources.
The platform itself was created in WordPress and it's fully responsive thus it is optimised for use on desktops, tablets and smart phones. The embedded responsive design, which enables automatic resizing, hiding, shrinking and enlargement, makes the SME4SMARTCITIES pages look good on any device.
The website was designed to promote interaction between users. We did not want to create a static resource where information is only heading one way: from the project to the public. So, we created a place that promotes community building. Users will have a forum where they can leave comments and pose questions. Furthermore, the website will be used for the webinars, online course and matching tool. Some of these being available only for the SMEs that will be selected to go to the 2nd step of the sub-grant call.
Create an account on our website and be the first to have access to the sub-grant call documents!