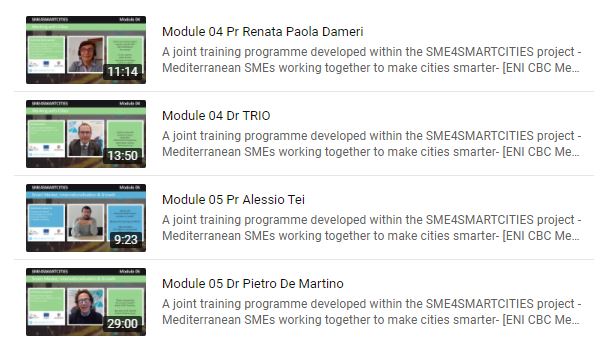 SME4SMARTCITIES is about to launch its training program
The Smart City Online Training Course that has been developed within the framework of the SME4SMARTCITIES project is about to start for the 49 SMEs selected in the first step of the project's call for proposals. It aims at preparing the technological and innovative Mediterranean SMEs to address smart cities solutions market, identify the opportunities generated and go international.
The course is composed of six modules that refer to different topics related to the smart cities world such as their goals, ecosystem or enabling technologies. Specifically, the modules address the following areas:
MODULE 01: Resilience & Sustainability / The Goals of Smart Cities
MODULE 02: The Smart Cities' Ecosystem
MODULE 03: Enabling Technologies
MODULE 04: Working with Cities
MODULE 05: Smart Market, Internationalisation & Growth
MODULE 06: Smart entrepreneur success stories
Apart from the written content and supporting resources provided for each of the more than 50 topics covered, the SME4SMARTCITIES Online Training Course offers interesting interviews with experts and other audiovisual material completing the program.
After finishing the first edition of the Training Program with the selected SMEs, the SME4SMARTCITIES consortium will make the course is publicly available through the project's platform: sme4smartcities.eu