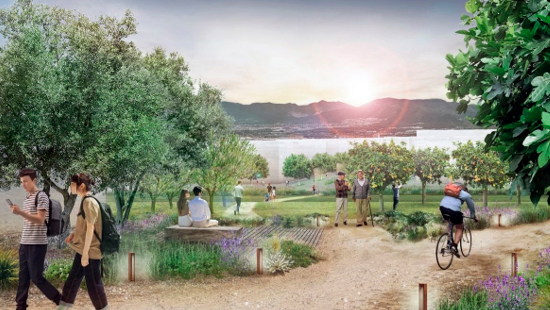 Spain: Innovative Smart City principles in the city of Malaga, partner in the SME4SMARTCITIES project
SME4SMARTCITIES addresses urban challenges through SMEs to ensure smarter and more sustainable Mediterranean cities. Let's have a look at the Zeta district project in Malaga, Spain to get inspired.
The construction of a new district in Malaga has been recently approved in which the smart city concept is a priority. This new district will host 3,500 homes, out of which 1,102 will be public, to guarantee the social inclusion of this new neighbourhood.
The design of this new neighbourhood has been made taking into account the opinions of citizens, especially those belonging to the so-called Generation Z, those born between 1994 and 2010. It is considered that those belonging to this generation are the most likely to open to the concept of a smart city.
In this way, the promoter's work teams and the young people have agreed on multiple initiatives related to the environment, urban technological applications, sustainable mobility and social integration. Amongst the proposals that this neighbourhood, known as the Zeta District, will host are electric lines, pet parks, urban gardens and multigenerational living spaces.
This neighbourhood is aligned with the Sustainable Development Goals of the 2030 Agenda and the smart city concept. That's why, under the mobility pillar, there will be 3.5 km of bike lanes, micro parking spaces for bicycles, categorization of parking spaces and reservations by hours and uses. Furthermore, there will be an innovative proposal of package delivery using drones, sensors to detect parking spaces, available parking, etc. An app is launched for all these types of functionalities.
Sustainability is one of the central elements of the Urban Innovation and Digitalization Area of the municipality of Malaga. For this reason, a network of urban fruit and vegetable gardens is planned. The water consumption of the foreseen green areas is reduced by half and the neighbours will be able to sponsor trees, by means of a plaque with name and date. Furthermore, elements that capture renewable energy for use in urban space will be used together with an intelligent irrigation system with humidity sensors and control through a mobile application. The promotion of a recycling program and exchange of points for the use of vehicles or collective transport, the improvement of infrastructure spaces for tree species, sustainable drainage, planting trees that capture more CO2, the improvement of clean points and collection of solid urban waste, including elements of aromatic landscaping and the improvement of topsoil are some of the innovative ideas for the Zeta District.
The construction of the Zeta District will contribute to achieving the objectives set by the Malaga City Council within its strategic plans for digitization, smart cities and sustainability.
Initiatives like this one will inspire the SME4SMARTCITIES project activities and the SMEs participating in the sub-grant call! Stay tuned for more info!