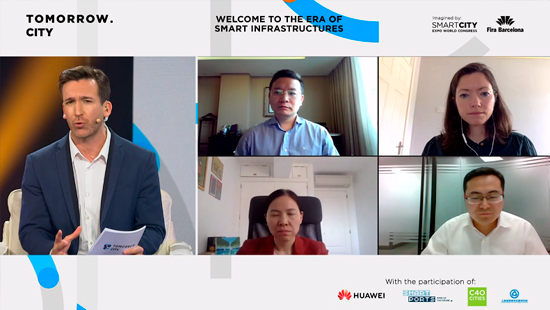 Spain: SME4SMARTCITIES encourages SMEs from Malaga to provide solutions to the smart city challenges
The European Business Innovation Centre in Malaga, BIC EURONOVA, held a new edition of the Innovation Breakfasts on Thursday, June 17th, aimed at innovative companies housed in their centre.
The face-to-face event was organized at the premises of BIC Euronova, after a period in which all the meetings were held exclusively online. BIC Euronova resumed the face-to-face editions, starting with the Innovation Breakfast in the open air, on the terrace of BIC Euronova, respecting safe distancing.
The Innovation Breakfast was attended by the CEOs of VectorPipe, a leading company in the field of artificial intelligence which is using algorithms and augmented reality tools in the fields of health, tourism, fashion, retail and automotive; Another present company was ANSOTEC, that works on digital transformation and optimises production processes through engineering and industrial control; TOP Digital that develops a multitude of activities in various sectors from telecommunications and software development to distribution of household appliances, improving the development of technologies and expanding comprehensive services and solutions for companies in its intelligent R&D&I centre; and last but not least Desafios Psicotécnicos was also present. Desafios Psicotécnicos are the first Academy in Spain specialized exclusively in the preparation of Psychotechnical Tests.
The event began with a presentation from the General Director of BIC Euronova, Mr. Álvaro Simón de Blas, who, accompanied by part of his team, was in charge of exposing all the news about the different programs, projects and services promoted by BIC Euronova in Malaga and which were of high interest to the participants.
Afterwards, the Head of International Projects from BIC Euronova, Mrs. Sandra García, briefly presented the SME4SMARTCITIES European project in which BIC Euronova is a partner. Mrs. García encouraged the present SMEs to participate in the SME4SMARTCITIES project by offering innovative solutions to the challenges that the municipality of Malaga faces. These challenges are in the field of smart cities, specifically in new sustainable mobility services. Furthermore, by joining the SME4SMARTCITIES project challenges, companies have also the possibility of participating in challenges from other Mediterranean cities. These will be launched by the other consortium partners.
With the aim of facilitating synergies and collaborations between the recently installed companies from BIC Euronova centre, a round of presentations was opened. The SMEs presented their activities, projects and interests. Finally, the participants had the opportunity to exchange experiences and share impressions, in a relaxed and safe atmosphere that facilitated networking.